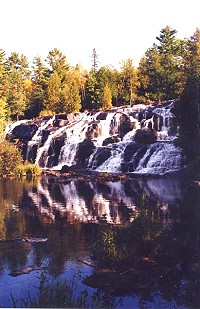 Watersmeet Michigan Lodging Vacation Rentals on Resorts, Cabins, Campgrounds and Hotels

Watersmeet Michigan welcomes you to year-round vacation enjoyment. From Watersmeet, the Ontonagon River flows north into Lake Superior. The Wisconsin River flows south into the Mississippi River, and the Paint River flows east into Lake Michigan. This is "where the waters meet"! This "Water Wonderland" includes 302 lakes and 241 miles of trout streams. Excellent resort and motel accommodations provide both anglers and families the opportunity for summer fun.

The famous "Cisco Chain" with its 15 lakes and over 271 miles of shoreline and "Lac Vieux Desert" with its 4,200 acres of boundary water and headwaters of the Wisconsin River, are home to many fish species including panfish, crappie, walleye, bass, northern pike and muskie. In fact, our area waters boast both state and world records for tiger muskie!
---
---
---
Didn't find what you were looking for? Check out the Lodging Vacation Rentals in these Surrounding Areas:
Land O' Lakes | Lake Gogebic | Marenisco
---
Click here to contact UpNorth Publishing to advertise your Lodging Business on this page!
---
Locate Up North Area Lodging Vacation Rentals
Cabins | Resorts | Motels | Hotels | Campgrounds
On-Line Brochures | Specials

Wisconsin Up North Lodging Vacation Rental Areas
Arbor Vitae | Boulder Junction | Conover | Eagle River | Hurley
Lac du Flambeau | Lake Tomahawk | Land O' Lakes | Manitowish Waters
Mercer | Minocqua | Mountain | Phelps | Presque Isle | Rhinelander
Sayner | St. Germain | Three Lakes | Tomahawk | Tripoli | Winchester
Woodruff

Western U.P. Michigan Lodging Vacation Rental Areas
Bessemer | Ironwood | Lake Gogebic | Marenisco
Porcupine Mountain | Wakefield | Watersmeet
---
We are Proud Members of the


Network
This site and all pages herein have been designed by and are hosted by the Internet Specialists at UpNorth Info, a division of BOTEK CORPORATION and are the property of BOTEK CORPORATION. Click here to contact us.
Copyright © 2014
BOTEK CORPORATION All Rights Reserved.
Here a list of the towns, counties and areas covered by these web sites. Since information is being added and updated constantly, some areas my not be completely represented yet.
Wisconsin: Ashland, Alvin, Arbor Vitae, Argonne, Blackwell, Boulder Junction, Bradley, Brantwood, Carter, Cavour, Chequamegon Bay, Clearwater Lake, Clifford, Conover, Crandon, Cresent Lake, Eagle River, Enterprise, Harshaw, Hayward, Hazelhurst, Heafford Junction, Hiles, Hurley, Jennings, Lac du Flambeau, Lake George, Lake Tomahawk, Land O Lakes, Laona, Long Lake, Manitowish Waters, McNaughton, Mercer, Minocqua, Mole Lake, Monico, Newbold, Park Falls, Pelican Lake, Phelps, Popple River, Presque Isle, Rhinelander, St. Germain, Sayner, Star Lake, Starks, Sugar Camp, Three Lakes, Tomahawk, Tripoli, Turtle Flambeau Flowage, Wabeno, Winchester, Woodboro, Woodruff, Lake Michigan, Lake Superior and the counties of Onieda, Vilas, Iron.
Michigan: Big Bay, Bruce Crossing Champion, Chocolay, Copper Harbor, Eagle River General Western U.P., Gwinn, Hancock, Houghton, Iron River, Iron Mountain, Ironwood, Ishpeming, Lake Gogebic, Marenisco, Marquette, Michigamme, Negaunee, Ontonagon, Porcupine Mountain, Siler City, Republic, Watersmeet, Winona
Counties: Vilas County Wisconsin, Oneida County Wisconsin, Iron County Wisconsin, Price County Wisconsin, Sawyer County Wisconsin, Iron County Michigan, Ontonagon County Michigan, Keewanaw County Michigan, Marquette County Michigan